Tested With Scoring System 1.1
Best For
Low budget sleepers, Queen mattress under $500
Lightweight or moderate-weighted sleepers
Good sex performance—high bounce, good edge support
Considerations
Only 2″ of comfort material may not be suitable for heavier sleepers
The thinner comfort layer can lead to inadequate pressure relief for some sleepers
Our Verdict
The Suilong Utopia is a mattress designed for sleepers on a tight budget. It is rare to find a hybrid mattress under $1000 or so, but the Suilong Utopia cuts this target number almost in half.

Of course, as with anything, you get what you pay for. The lower price tag means Suilong needed to make quality / material sacrifices. The mattress has high motion transfer levels and less-than-ideal pressure relief.

But if you're not picky the Utopia can be a good way to save some cash.
Type: Hybrid
Firmness: Medium Firm (6)
In This Review
Performance Tests | Firmness | Support & Sleeping Positions | Design | Materials | Comparisons | FAQs
At NapLab, we put each mattress to the test.
We test 10 different factors that impact the performance, comfort, and value of the mattress. Testing categories include:
| Test | Rating |
| --- | --- |
| Cooling | Excellent |
| Sinkage | Moderate |
| Motion Transfer | High |
| Response Time | Very Fast |
| Bounce | High |
| Edge Support | Excellent |
| Sex | Excellent |
| Pressure Relief | Fair |
| Off-Gassing | Excellent |
| Company | Excellent |
Cooling performance on the Suilong Utopia was excellent. During our tests, I experienced no significant heat retention around my body.
Ultimately, there just isn't much in the way of materials that can actually hold onto heat. The Suilong mattress only uses 2.0" of comfort material.
Max Temp.
Ending Temp
Baseline Temperature – the temperature of the mattress before anyone lies on it
Maximum Temperature (0 minute) – the temperature of the mattress after lying on it for 15 minutes
Ending Temperature (5 minute) – the temperature of the mattress after being lied upon and having no one on it for 5 minutes
While this isn't great for pressure relief, for cooling it's beneficial, as there is less physical material in which heat could be retained.
Heat dissipation on the Suilong was excellent. From minute 0 to 1 the temperature declined by 5.5°.
From minute 0 to 5 we measured a temperature reduction of 8.7°. I don't expect there to be significant cooling issues for most sleepers.
Heat Dissipation Over Time
The Suilong Utopia has a moderate level of sinkage. In our pressure point sinkage tests, we measured a total sinkage depth 2.03". This is slightly less than the average sinkage of 2.23" (based on all of our tests to date).
The level of sinkage is documented in the image below.
The moderate level of sinkage helps ensure sleepers don't feel stuck or overly enveloped by the mattress.
For many body types and sleeping positions, a more moderate level of sinkage creates better support, as it ensures the mid-section remains fully supported.
The Suilong Utopia has a high level of motion transfer. In our tests, we measured a total acceleration range of 11.28 m/s². This is significantly more motion than the average motion transfer, which is 7.42 m/s² (based on all of our tests to date).
The level of motion transfer is documented in the video below.
The Suilong mattress has a fairly thin comfort layer on top of a coil unit. Less foam in the mattress also means less material that could decrease energy, which results in higher motion transfer.
Max. Acceleration
5.65 m/s²
Min. Acceleration
-5.63 m/s²
Our motion transfer chart shows the highest level of motion from 0 to 0.21 seconds. However, it's not until 1.08 seconds that motion returns to near-zero levels.
Mattresses with the lowest motion transfer are able to return to near-zero levels within 0.3 seconds. Overall, the Suilong Utopia has a higher level of motion transfer and we see that motion lingers on the mattress for a longer period of time.
Response time on the Suilong Utopia is a mixed bag. In our tests, we measured a mostly recovered response time of 0.6 seconds.
Mostly Recovered
0.6 sec.
Complete Recovery
2.0 sec.
However, the fully recovered response time was 2.0 seconds. Based on all of our tests to date, we have measured an average mostly recovered time of 0.47 seconds and an average fully recovered time of 0.90 seconds. As a result, the Suilong is worse than average in both measurements.
The level of responsiveness is documented in the video below.
The mostly recovered response time isn't far off from average. However, the fully recovered time is nearly double the average.
For most sleepers, this mattress should not leave you feeling stuck. While the response time could absolutely be better, it's not bad. When you consider the relatively thin comfort layer, there is no reason to think that typical sleepers would feel entrapped.
The Suilong Utopia has a high level of bounce. In our tests, we measured 10.46" of total bounce height. This is 0.70" more bounce than the average bounce of 9.76" (based on all of our tests to date).
As we've noted elsewhere, the relatively thin comfort layer is creating performance beyond the average. With less foam to get in the way, there is more room to rebound with a higher level of bounce. Even so, I'm not worried about this bounce height.
Max. Sinkage Depth
Max Bounce Height
The level of bounce is also documented in the video below.
I like to see 8-12" of total bounce height. It's enough to improve ease of movement and sex, but not so high or so low to create new problems. The Utopia's 10.46" is in the sweet spot and will be a non-issue for most sleepers.
The edge support on the Suilong Utopia is a mixed bag. Sitting edge support is excellent, but lying edge support leaves much to be desired.
In our sitting edge support tests, we measured 3.5" of total sitting sinkage compression. This is 0.96" less sinkage than the average of 4.46" (based on all of our tests to date). The mattress does a nice job of supporting even when sitting directly on the edge.
The level of edge support while seated is documented in the images below.
Sitting, 140 lbs.
Sitting, 200 lbs.
Lying edge support is another story. Ultimately, I just don't feel well supported when lying on or near the edge of the mattress. There is a more significant sinkage depth and it feels like I'm being rolled off the mattress.
The level of edge support while lying is documented in the images below.
Lying on Edge, 140 lbs.
Lying on Edge, 200 lbs.
Most sleepers will need to be at least a few inches away from the absolute edge of the mattress to feel well-supported.
Our sex rating formula looks at 5 different factors weighted based on their importance.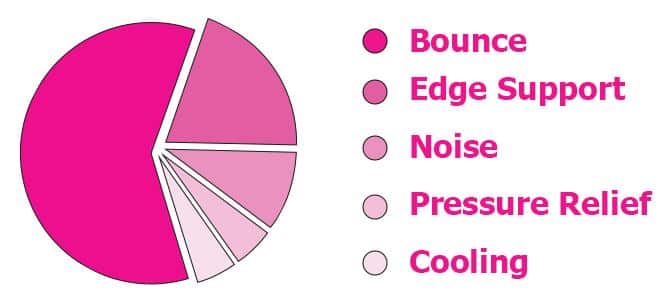 All factors are not equal in terms of significance, but each plays an important role.
Three of the most important factors are listed below with the associated testing scores:
In addition to the factors above, there are two other we consider as well, including pressure relief and cooling.
Here's a look at the breakdown of how these 3 factors rank within the full formula:

We use the scores from all factors, plugged into the formula above, to derive a sex score for each mattress.
| Sex Factor | Factor Weight | Score |
| --- | --- | --- |
| Bounce | 60% | 10 |
| Edge Support | 20% | 9.8 |
| Noise | 10% | 10 |
| Pressure Relief | 5% | 8.0 |
| Cooling | 5% | 9.5 |
For the Suilong Utopia, these individual factors generated a sex score of 9.8. Despite the poorer performance in other categories, the material choices really aid the sex performance.
This mattress has high bounce and good sitting edge performance which make up 80% of the sex score. It is quiet and has good cooling as well.
Really pressure relief is the only category that leaves something to be desired. The comfort layer is only 2.0″ and for most people, more would be better for a more comfortable experience overall.
The Suilong Utopia has fair, but far from great pressure relief. In our tests, I felt a slight to moderate level of pressure point build-up.
When we consider the material design of the mattress, it makes sense. We only have 2.0" of comfort materials. Typically, 3.0" is a minimum standard, while many mattresses have 4-6".
With only 2.0" you just don't have much material between you and the less pressure-relieving support coils.
As a result, your body is able to sink through the 2.0" and into those coils, which are more likely to create pressure points. Heavier sleepers and side sleepers are more likely to experience potential pressure relief issues.
Beyond the foam thickness, the foam quality in general is just not amazing. When I compare the feel, aesthetic, rigidity, and density of these foams to many others we've tested there is a clear difference.
Off-gassing is about average on the Utopia. Right out of the box, the smell was quite strong. After 4 days, the smell fully dissipated. Pretty standard stuff here.
Initial Smell Strength
Strong
Off-Gassing Period
4 days
The Suilong company offers a 100-night trial period and a 10-year warranty. Shipping is free and returns are also free.
| Company Factor | |
| --- | --- |
| Trial Period | 100 nights |
| Warranty | 10 years |
| Shipping | Free |
| Returns | Free |
| Country of Origin | Other |
Across the board, these terms and policies are on par with most of what we see in the industry.
How firm is the Suilong Utopia?
The Suilong Utopia mattress comes in a single firmness. It has a medium firm feel, coming in at 6 out of 10 on the firmness scale. This is a firmness that is suitable for the widest range of sleepers.
Support & Sleeping Positions
The Suilong Utopia mattress has an okay level of support, but as with pressure relief, it's far from amazing. The mattress is 10" thick and uses an 8" coil unit.
The coil unit itself seems adequate, though not to the same level as many other coil units we've tested on more expensive hybrids. Atop the coil unit is just 2.0" of comfort material.
This just isn't going to be thick enough for most sleepers. The limited comfort layer will create pressure points, which will create a support issue. Beyond that, lying edge support was very much lacking as well.
At the end of the day, this is a very inexpensive hybrid mattress. Sleepers buying a mattress in this price range should not expect perfect support. For the price point, this is both an acceptable and expected level of support performance.
The table below details which sleepers may be a good fit for this mattress.
| Sleeper Weight | Stomach Sleepers | Side Sleepers | Back Sleepers |
| --- | --- | --- | --- |
| Under 150 lbs. | Yes | Yes | Yes |
| 150-250 lbs. | Yes | Yes | Yes |
| 250-300 lbs. | Maybe | No | Maybe |
Design
The Utopia mattress is designed to be a hybrid mattress that appeals to sleepers with a low budget. The materials and quality are not as impressive as what we've seen and tested from higher-end mattresses, but they also cost 1/3 of the price in some cases.
Materials
There are four layers on the Suilong Utopia hybrid, albeit three of those four layers make up only 2″ of the overall composition. From top to bottom, the layers include:
0.5" quilted cover
1.0" poly foam (convoluted)
0.5" memory foam
8.0" pocketed coil
It's worth mentioning that Suiloing states that their hybrid is an 11″ mattress.
From our testing data and physical assessment of the product, that's just not true.
The picture below shows the mattress up against a measuring stick for further confirmation. As you can see, the mattress is just a touch over 9.5″.
The Cover
The cover of the Utopia mattress is quilted with an overall thickness of 0.5″. It is soft and breathable, albeit thin.
The sides of the mattress use a darker, thicker fabric which provides good durability and helps the mattress retain its shape.
The Comfort Layer
The comfort layer is pretty thin on the Utopia mattress. Not counting the 0.5″ quilted cover, the comfort layer is only 1.5″ thick.
There is a 1.0″ convoluted poly foam followed by a 0.5″ memory foam above the support coils.
For the sake of giving this mattress an advantage, let's include the quilted cover in this calculation—so a 2.0″ thick comfort layer.
Even with the cover included, only 2.0″ of comfort material is significantly less than I like to see in virtually any mattress designed for adults. This thin of a comfort layer just can't provide the pressure relief, contour, or top-layer comfort that most mattresses need in order to be comfortable.
The Support Layer
The support on the Utopia mattress includes an 8.0″ layer of pocketed coils encased in a thin fabric.
The support does not have zoned areas or any fancy bells or whistles, but they do their job and provide good bounce and improve response time.
Product Evolution
The Suilong mattress launched in late 2021. Since it's launch there have been no major changes to materials or mattress design.
How is the Suilong Utopia Different?
The biggest advantage that the Utopia has over its hybrid competition is its extremely low price tag—one of the least expensive we've tested to date.
The manufacturer is trying to keep the price low, so they are making material / quality cuts where they feel they can. I have no problem with the manufacturer making those choices.
However, there should be no mistake, the Suilong is not to the same level as many other hybrid mattresses in the $800-$1200 range (and beyond). Those mattresses use significantly higher-end materials and, in turn, deliver better performance.
Suilong had a good performance relative to the price. For those who simply need to keep the price as low as possible, it's worth consideration.
Other Mattresses to Consider
Not sure if the Suilong Utopia is the right mattress for you? Check out these two top-rated mattress recommendations below for budget hybrids that won't break the bank.
For Motion Transfer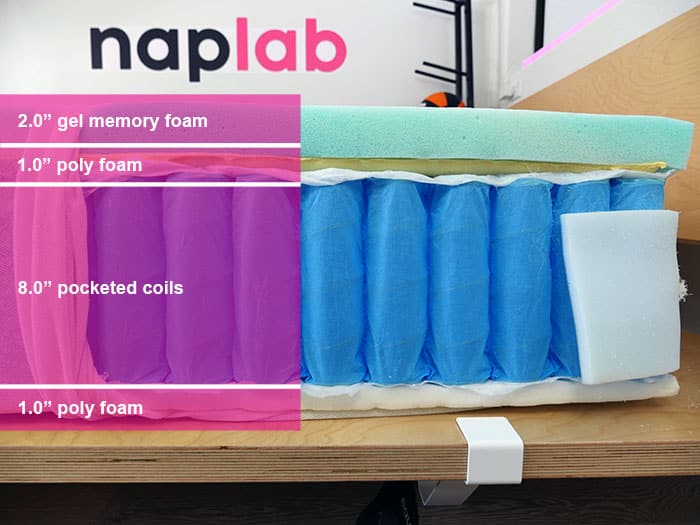 Zoma Hybrid
12″ Profile Height
The Zoma Hybrid has a 3″ comfort layer (1″ thicker than the Utopia) and has a higher performance. It did a great job at limiting motion transfer in our tests. Regarding firmness, the Zoma (5) is slightly softer than Utopia (6).
For Pressure Relief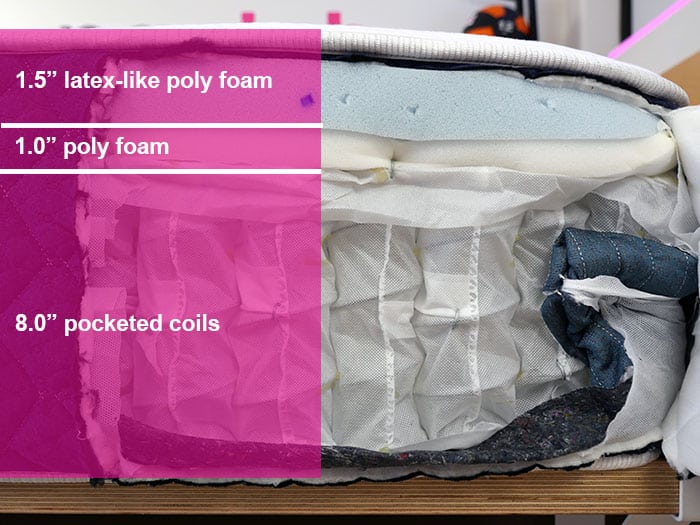 Brooklyn Bedding Signature Hybrid
2.5″ Comfort Material
The Brooklyn Bedding Signature Hybrid is a great example of a mattress with a similar thickness to the Utopia, but drastically improved performance. Pressure relief was fantastic and the mattress comes in three firmness levels (4, 6, or 8 out of 10). However, it's 2X the price.
Frequently Asked Questions
Still have questions? Check out some of the top FAQs on the Suilong Utopia mattress below and get the answers you're looking for.
How much does a Suilong Utopia mattress cost?
Here are the current prices, with any sales or promotions reflected below:

Twin: $266
Full: $329
Queen: $429
King: $499

*Note: Sales prices are subject to change without notice or warning.
How is the Suilong Utopia so inexpensive?
This mattress is targeting a market of sleepers on an extremely low budget. The materials are not especially high quality and the layers are thinner as well. These two factors alone can really get the price down significantly, but as with anything, remember that cheaper materials also negatively impact performance.